Please Email us
your Reunion photos for possible placement on the Reunion web site !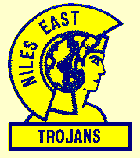 Original Trojan Logo
circa 1939


Deadline to be included
is October 10th, 2003




Has this been a decade of change! Be prepared to be downloaded with gigabytes of nostalgia sure to restore our memories that are just begging for restoration as we near 50 (GASP!) At this reunion we won't have to worry about knowing what to say. We can have the same conversations we had at the 20th and no one will know the difference.

But we won't have the same conversations. Scary and unbelievable, heartwarming and inspirational - tales from parenthood will fill the air. Raising teenagers is a whole different story than most of us could ever fathom ten very long years ago!

From Camaros to Minivans, from one career to the next, we'll reflect on life's changes. But most of all we'll talk and laugh about old times. Though our bodies have forgotten how to be eighteen, we can be that magic age again in our minds (without the homework) and here's the best part - our kids won't be there to say we're embarrassing them.




When? - Where? - How Much?


Friday Night November 7th 2003 - Pre-reunion warm up!
Location: Rocky Vander's Cafe
698 Milwaukee Ave. (Milwaukee & Palatine), Prospect Heights
847-459-9678 / Starts at 7:30 p.m.



- Reunion 3.0 -
Come & celebrate with your classmates !


Our reunion will be on Saturday, November 8th 2003
The party begins at 7:00 p.m. with piano music, Hors D'oeuvres and a cash bar... followed by an evening of food stations, plenty of conversation and a walk down memory lane.
The atmosphere for this event is "Nice Casual"
Show your support for the reunion by registering early!

The 30th year reunion will be held at: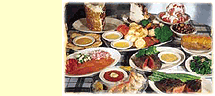 5464 North River Road, Rosemont IL 60018 - (847) 928-9900
Gibsons Rosemont is located adjacent to the Doubletree Hotel, and directly across the street from the Donald E. Stephens Convention Center. It is also conveniently located next door to the Rosemont Theatre. Valet parking is complimentary at the Rosemont location.

The cost for the reunion is $73.00 per person before October 20th or $90.00 (cash only) at the door. Based on our agreement with Gibsons, you will ONLY be guaranteed admittance if your money is received by October 20th, 2003 !! A limited number of walk-ins may be admitted at the price of $90.00

If you plan on attending the reunion, please print out and complete the Sign-up Form and mail it back to us with your check for $73.00 per person payable to:
Niles East Class of 73 - P.O. Box 101 - Skokie, IL 60077



- Doubletree Hotel -

Reunion guestroom rates are $79.00 (Reservations must be made before October 23, 2003) Doubletree Hotel O'Hare-Rosemont is a full service upscale hotel located at 5460 North River Road, Rosemont
Tel: 847-292-9100 Fax: 847-292-9295 and connected to the Donald E. Stephens Convention Center - 1 mile from O'Hare International Airport. The hotel features oversized guest rooms, an indoor pool and fitness center, a restaurant and lounge, and Chicago's very own famous Gibsons Steakhouse. Self-parking is available at a rate of $11.00 per day. Doubletree Hotel Info



- Class Reunion Book -

If you are NOT planing on attending our Reunion but would like to purchase a Class Reunion Book. Click to purchase a Reunion Book



- Video Montage -

Noreen Tennant will be creating a "Video Montage" for our 30th High School Reunion. Please e-mail her pictures or slides from our high school days through the present, in order to make the show a success!
Her email address is: NCT36@yahoo.com



- Reunion Ad Book -

If you would like to reach your classmates on a business level,
please purchase ads for our 30th Year Reunion Ad Book.
1/4 page or Business card ad: $35
1/2 page ad: $65
full page ad: $100
Deadline to be included is October 10th, 2003






Top Songs of 1973
"You're So Vain"
by Carly Simon.

Top Songs of 1973
"Crocodile Rock"
by Elton John

Top Songs of 1973
"Killing Me Softly"
by Roberta Flack